OUR PEOPLE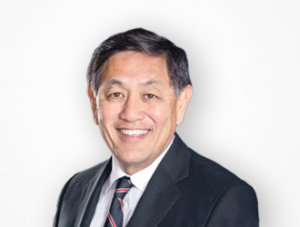 Asuka Nakahara
Partner
Asuka Nakahara's 20-year real estate career with Trammell Crow Company encompassed commercial development, finance, leasing, and management, focused on Class A office space, shopping centers, industrial parks, and R&D/service center space.
For the past 18 years Nakahara has served as Associate Director of the Zell-Lurie Real Estate Center at the Wharton School of the University of Pennsylvania, a research organization that facilitates faculty, student and industry interaction and discussion.  He also teaches an MBA course titled "Real Estate Development", has won numerous teaching awards, and has taught at Harvard Law School, Wharton's NFL program, and others.
Previously, Nakahara was a member of the senior management team at Trammell Crow Company, serving as the Chief Financial Officer, overseeing finance, capital markets, mergers and acquisitions, marketing, Trammell Crow University, human resources and other new business initiatives. He was integral in helping take the 49-year old company public on the New York Stock Exchange in 1997. Starting as a leasing agent in Houston, Texas, Nakahara was promoted to Partner in 1983, opened the Philadelphia office in 1985, and was named the Northeast Regional Partner and Management Board member in 1987.  He subsequently oversaw the firm's business activities from Washington D.C. to Boston, responsible for the development and management of a 10 million SF portfolio, prior to being named CFO of the parent company.
Most recently, in addition to his Wharton responsibilities, Nakahara has been a private investor and consultant lending his expertise to investment management, private equity, international real estate, golf course, homebuilding, restaurant, media, entertainment, and communications services companies, as well as family offices, a higher education institution, and a regulatory agency.  His assignments have ranged from major corporate headquarter and real estate transactions to strategy, leadership, and financing/capital markets advice to both real estate and non-real estate firms and CEOs and CFOs.
Nakahara graduated with honors from Rice University with a BS degree in civil engineering and received his MBA from Harvard Business School.  He serves on the boards of Comcast Corporation (NASDAQ: CMCSA) and CBRE Clarion Global Real Estate Income Fund (NYSE:IGR). He recently served on the United States Golf Association (USGA) Executive Committee and is a past board member of The Philadelphia Foundation, the Professional Golfers' Association of America (PGA), the Children's Hospital of Philadelphia (CHOP), the Harvard Business School Club of Philadelphia, Ardmore Presbyterian Church, and Merion Golf Club. He has chaired Investment, Finance and Governance Committees in his board service.